Future Proof your Business with Microsoft Copilot
Powered by First Distribution
Microsoft 365 Copilot is a new AI assistant and productivity tool that, as the name suggests, works across the Microsoft 365 portfolio to help users with their daily work.
The AI can pull from Word documents, Excel spreadsheets, Office emails, and other Microsoft 365 apps to gather data in real time, using natural language processing to understand and execute tasks.
The Copilot System, which powers the AI, is a processing and orchestration engine that uses Large Language Models, data in the Microsoft Graph (which contains data like a user's emails, files, and chats), and the Microsoft 365 apps, all through natural language processing. (While Microsoft has invested heavily in ChatGPT, that's only a piece of what makes Copilot work.)
Microsoft states that Copilot is built with a comprehensive approach to security, compliance, privacy, and responsible AI to make sure that it's secure and ready for enterprise use.
Users feed Copilot prompts through a command in the app they're using, which the AI then carries out within Microsoft 365. Once Copilot creates a draft, users can keep it as is, request adjustments, edit it themselves, or have Copilot start again from scratch. This is designed to help automate tasks, compile information, and provide users with good starting points for their projects while still making sure that humans have the final say.
Copilot can also edit existing documents or sections. This goes beyond a spelling and grammar check and can include entire rewrites to make sections more concise or incorporate new data.
In the introductory video, Microsoft demonstrated several uses for Copilot, including:
Preparing for upcoming meetings based on information from notes and emails
Creating a product announcement in Microsoft Word
Transforming a Word document into a PowerPoint presentation
Analysing data from an Excel spreadsheet
Drafting emails in Microsoft Office
Providing meeting notes and summaries in Microsoft Teams
Copilot is designed to carry out tasks within all of Microsoft 365's apps, and can carry data between each app. So, if a user needs to pull information from an Excel spreadsheet for an Outlook email, Copilot can do that.
Copilot can follow meetings to take notes and create summaries that highlight key moments from the conversation. This way, if an attendee is late or has to miss the meeting, they'll still get the notes and a recap.
Copilot can break down these notes to provide more detail, including quotes from transcripts. Users can also ask Copilot questions during a Teams meeting to gain extra context or remind them of information and tasks.
During calls with clients, Copilot can offer suggestions to answer questions in real time, based on the user's sales material.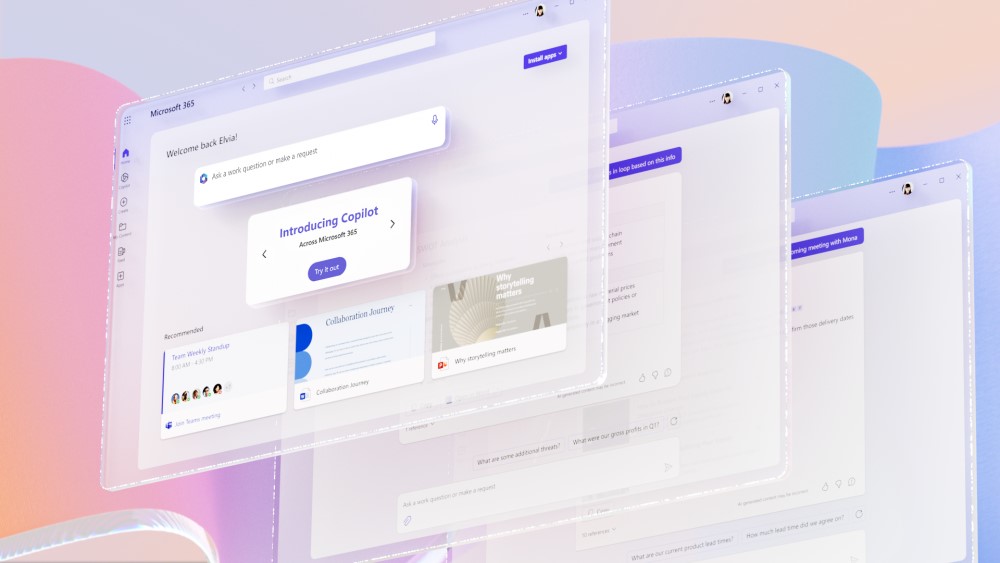 Business Chat is a new feature introduced with Copilot. Users can access it through Microsoft 365, Bing, or Teams, as it works across all of a user's Microsoft 365 apps, files, and media to gather information and content to find all the pertinent information they need. Business Chat can break down important information into their key details or compile it all into a single place.
For instance, users can use Business Chat to ask Copilot to gather data from multiple spreadsheets and compile an analysis. Then, it can create a presentation made from that data. This helps automate and streamline note taking, gathering files, analyzing data, and so on, which helps save users time and energy.
Like all other AI models, Copilot can make mistakes. As such, users are strongly encouraged to review everything it creates and make edits, or use Copilot's creation as a jumping-off point. Users should think of Copilot as an assistant providing a first draft, which still needs to undergo internal review.